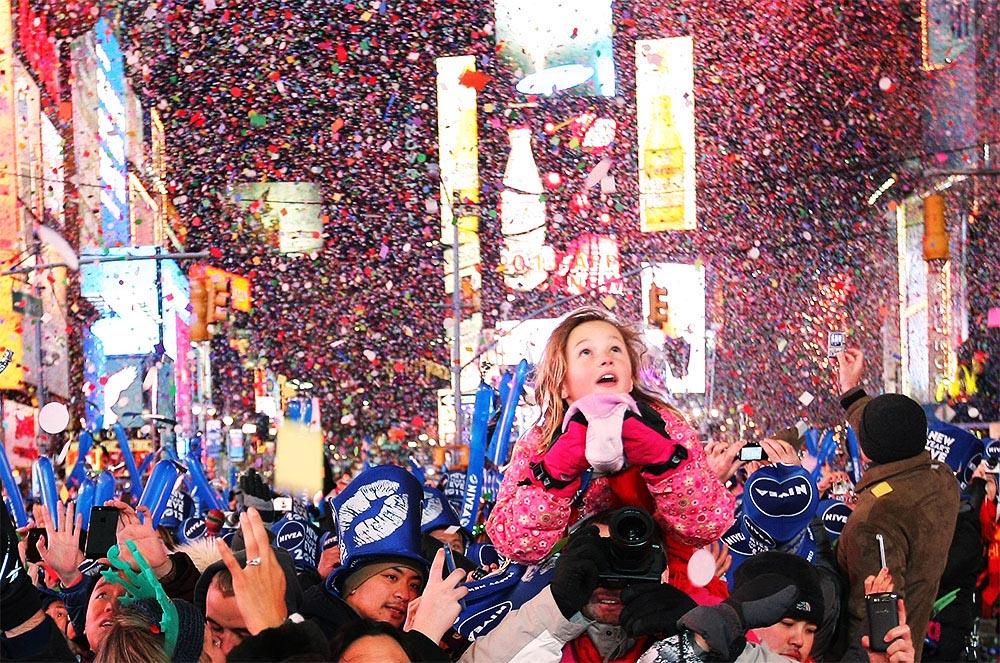 The ball has dropped. We've shoved our glittery garb in the way, way backs of our closets. We've already written the year wrong half a dozen times and probably cheated on a few resolutions too. Happy 2015! Welcome to a brand new year of your life.
What does a new year mean to you? A few days ago, I started wondering why we even celebrate New Years in the first place. It doesn't commemorate a noble life, a momentous historical occasion, or a profound religious event. On the surface, we're celebrating the passage of time, the past year's blessings and memories, and the friends and family that made it through another year by our sides. We raise one last glass to
Auld Lang Syne,
and then begin again with counting down to the future. But before the new year sweeps us back into the swift current of routine life, we savor each last second, imagining how this new year might be different than the last. We imagine change.
Apprentice of the world
The twenties are a period of life rife with changes—marked with
what Hildebrand termed the "vital rhythm of youth" (Hildebrand 14). On the normal path of human development, the propensity towards change or fluidity,"is proper to youth" (14). Hildebrand is not speaking of a restless or fickle concept of change,
lovable
for its own sake but rather a readiness to aspire to higher values "for enriching and ennobling oneself (14)."
This desire for positive personal change takes shape during youth in a variety of ways, through education, career exploration, travel, new experiences, and new commitments. Openness and attraction to positive change is the true mark of a youthful spirit and the reason why looking for the fountain of youth in anything purely material, be it botox or exotic vacations, will always be fruitless. This open-eyed approach to the world is most natural to the young because as youth, we know we are still pupils,
naive
apprentices of the world. And, wanting to know the meaning of it all, we are willing and sometimes even craving to be taught, influenced, and affected.
(
Read more
here
or
or here
about freedom/value/change).
But another year has gone by. If the way of nature is left undisturbed, our desire to change ourselves will slowly settle, then eventually harden, fixing our character, peculiarities, habits, and viewpoints into rigid stone. If our natural tendencies are left unchecked and unchallenged we "undergo a process of solidification" and our "natural mobility and urge for change disappear" (Hildebrand 14). Unless we decide otherwise, our natural tendency as we age is to reject the role of student and assume the title of master. With this assumption, "the natural readiness to change is gone; its place taken by the attitude of a person conscious of maturity, who considers himself to have achieved his period of formation and arrogates…the right…to settle down in his peculiarities" (14). Left unchecked, we run the risk of becoming the old dogs "incapable" of learning new tricks, not because our eyes are weak or our brains are tired, but because we do not see any need for change. We are all familiar with "olds dogs" of every age: people so hardened in their ways of thinking or behaving that we have to tip-toe around them, for fear of offending them-- acutely aware at all times of their peculiarities, aware that there are certain discussions we can never broach, invitations we cannot give, and expectations we must live with because they
will not change
. Either they have grown comfortable with their flaws and peculiarities or, worse still, they have ceased to see them at all.
This is a natural tendency, but nature
is
redeemable. I'm sure that you and I both know countless older people who are awake, alive, and ready to change and grow. And we probably know several young people who have about the same motivation to "aspire to higher values" as a potato.
This ability to stay fluid and young at heart requires deep humility—a challenge at every age. This is the secret, the fountain of eternal youth, the stream of living water that allows us to stay new at any stage in life. Humility prepares us to learn and grow because it reminds us that we are never fully finished learning. When we honestly admit that our own knowledge and experience are just a drop in the ocean, we we are more willing to listen to others, to make our hearts more amenable to truth, and to aspire for greater wisdom and greater love. Humility reminds us that the best master is, in the first place, the best student. In order to make any profound, transformative change, we must be willing to be a student of truth, experience, and love.
So for this brand new year, I challenge you with the same challenge I am giving myself. Ask yourself which areas of your life might need change. Will you be humble enough to see them? It will be hard to let go of comfortable but unhealthy habits. It will be tiring to resist the cunning and familiar lies you tell yourself. It will require strength to deny the excuses and the rationalizations that keep you from moving forward and becoming who you were made to be
. But if you are willing to change, your life, even its most mundane details, will possess meaning and vigor. Like Hildebrand, whose youthful spirit was fueled by a keen desire and constant effort for true and radical transformation in Christ, you will wake up each morning with hope, alive to the brilliant possibility of each present moment. I want that kind of life. I
need it.
so, in the spirit of the New Year, I'm sharing my resolutions, hoping that public accountability will help me to keep them!
1. Work on not being defensive or fearful in conversation or behavior. If what I believe is true, it will hold. I can trust it. If it is not, then I am the one who needs to change or learn more.
"The universe rings true whenever you fairly test it." ~
C.S. Lewis
2. Be willing to learn from others. Always. Listening to what they have to say and not seeing myself as the solution to their problems or someone to "fix" them.
"Shut your mouth; open your eyes and ears."
~C.S. Lewis
3. Looking to Christ's word, His presence in the Sacraments, and the way He speaks to me through others as directives for true change of heart.
"A
nd He will wipe away every tear from their eyes; and there will no longer be any death; there will no longer be any mourning, or crying, or pain; the first things have passed away."
And He who sits on the throne said, "Behold, I am making all things new." And He said, "Write, for these words are faithful and true."
Revelation 21:5
Whatever your resolutions are this year, I hope that they bring you closer to the Source of Joy. We aren't promised any number of new days or new years, so let's make the most of what we're given.
"
Besides this you know the time, that the hour has come for you to wake from sleep. For salvation is nearer to us now than when we first believed."
Romans 13
C.S. Lewis
,
Surprised by Joy: The Shape of My Early Life
Dietrich von Hildebrand,
Transformation in Christ, Ch. 1: The Readiness to Change